What is Refractive Surgery?
Refractive surgery is a group of procedures that aim to correct your refractive error. If you require glasses or contact lenses to be able to see clearly, you likely have a refractive error.
Refractive surgery procedures like LASIK, PRK, ICL, and refractive lens exchange can correct refractive errors such as nearsightedness, farsightedness, and astigmatism by changing how light is refracted in your eye. For you to see clearly, the light entering your eye must focus directly on the retina.
When you have a refractive error, the light focuses elsewhere, resulting in blurry vision. Refractive surgery can correct your refractive error and significantly reduce your dependency on glasses and contact lenses.
---
LASIK
During the LASIK procedure, your LASIK surgeon will use a laser to reshape the cornea, the round, transparent dome at the front of your eye. To do this, they will first make a flap in the top layer of your cornea with a laser.
Next, they will treat the tissue underneath the flap with a different laser to change the shape. Your LASIK surgeon will then replace the flap, and you will begin the healing process.
You will need to rest for a few days after the procedure but can resume most of your everyday activities within days.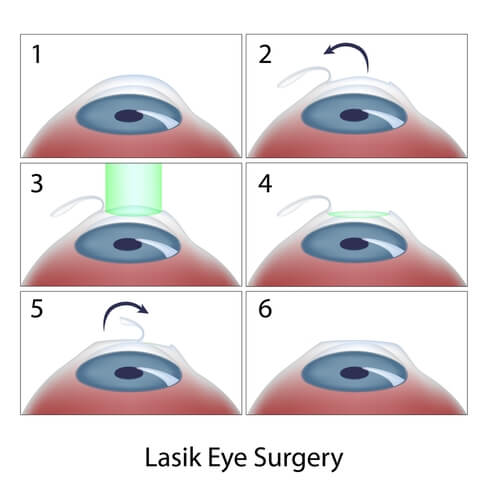 ---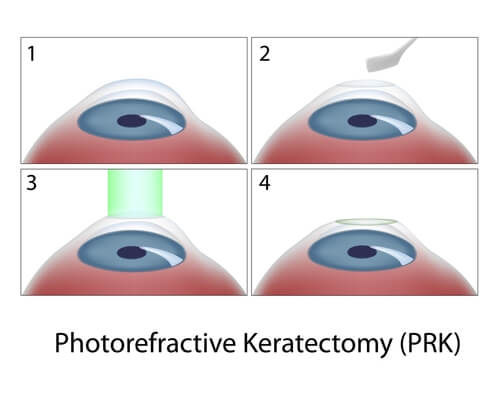 PRK
PRK Instead of creating a flap in the cornea, as in LASIK, during the PRK procedure, your eye surgeon will first remove the top layer of the cornea, called the epithelium. Once they remove the epithelium, your eye surgeon will adjust the shape of your cornea tissue using a laser.
After the procedure, they n will place a contact lens over your eye that will act as a bandage while your eye heals. The epithelium will naturally regenerate during the recovery period.
Although many people notice an improvement in their vision right away, it may take a few days to weeks for you to see the full potential of your corrected vision.
Implantable Collamer Lens (ICL)
An ICL is an implantable collamer lens that can be placed inside your eyes to correct your natural refractive error. At Pinnacle Eye Center, we offer the EVO Visian ICL, which is one of the newest and most advanced ICLs on the market.
An ICL acts like a contact lens, except it is placed inside your eye, in front of your natural lens. The ICL procedure allows you greater freedom from visual aids and offers a quick recovery.
Refractive Lens Exchange (RLE)
Refractive Lens Exchange (RLE) The refractive lens exchange procedure does not require any alteration of the corneal tissue. Instead, during the RLE procedure, your eye doctor will remove your natural lens and place it with an artificial lens. This procedure is very similar to cataract surgery.
Your natural lens is partially responsible for altering the way light is refracted. Once replaced with an artificial lens, the light will land directly on the retina, and you will experience clear vision.
There are many benefits to choosing refractive lens exchange. However, just like any refractive surgery, it is not for everyone. You must be at least forty-five years old to qualify for the refractive lens procedure.
Refractive lens exchange is one of the only ways to treat presbyopia, which is the loss of near vision as we age. A Trifocal or extended depth of focus (EDOF) lens can be used to gain intermediate and near vision along with the excellent distance vision, something LASIK or PRK cannot do in the 45+ year old population.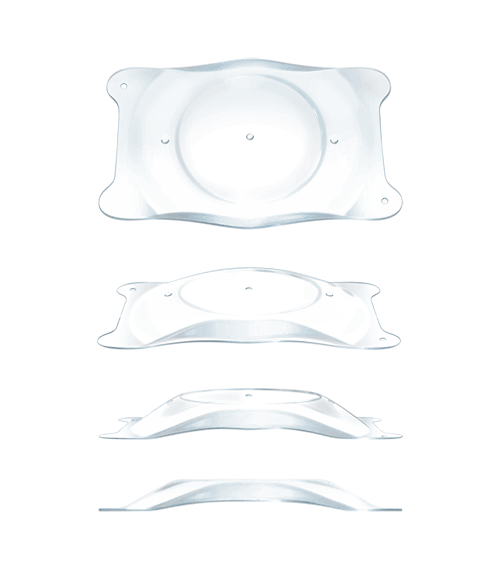 ---
How Do I Know if I am a Candidate for Refractive Surgery?
Before scheduling any refractive eye surgery, you must first qualify as a candidate for the procedure. Eye doctors consider many factors when determining whether or not someone is a candidate for refractive surgery.
Although each procedure has unique requirements, generally, a good candidate for refractive surgery is at least eighteen years old, is in good health, and is not pregnant or breastfeeding. Your eye doctor may also require that your vision and glasses prescription be stable for at least a year before refractive surgery.
The best way to know if you are a candidate for refractive surgery is to visit your eye surgeon at Pinnacle Eye Center for an evaluation. They will determine which procedure best suits you to achieve your vision goals.
Are you interested in learning if refractive surgery can help you experience visual freedom? Schedule an appointment at Pinnacle Eye Center in Melbourne, FL, today!
LASIK Self-Test
Request an Appointment