What Are Cataracts?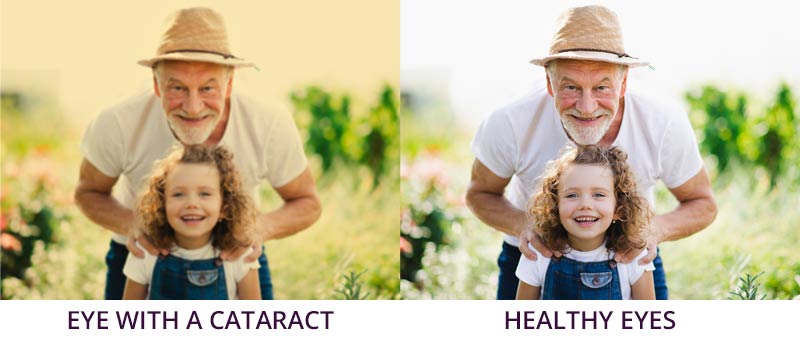 Cataracts are a clouding of the eye's natural lens, typically resulting from aging. Most people will begin developing cataracts in their forties, with them becoming visually significant in their 60s. However certain health conditions, environmental exposures, medications, or trauma can cause cataracts to develop earlier in life.
The progressive clouding of the natural lens can distort light and block it from reaching the retinal cells at the back of the eye. Because of this, cataracts can cause a variety of bothersome symptoms.
The most common symptoms of cataracts are blurry vision, glare, halos around lights, and difficulty reading or performing other tasks with near vision.
---
How Do the Eye Doctors at Pinnacle Eye Center Detect Cataracts?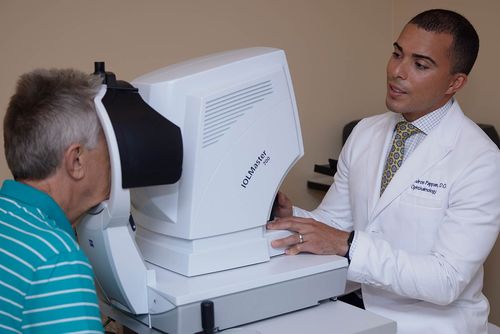 The eye doctors at Pinnacle Eye Center can diagnose cataracts during your routine eye exam. During a cataract evaluation, your eye doctor will test your vision in several different ways, and then examine your eyes under a microscope.
At Pinnacle Eye Center, our cataract surgeons utilize some of the most advanced diagnostic equipment, including the IOL Master 700, an advanced biometer, and the Galilei G4, a corneal tomographer. Information obtained from these new devices helps determine what power of the lens will be needed to replace your natural lens with high accuracy.
In combination with this data and their examination of your eyes, your eye surgeon will be able to diagnose and determine the severity of the cataracts you have. In the early stages of the eye condition, your symptoms will likely be able to be remediated using prescription glasses and minor lifestyle changes.
However, once cataract symptoms begin to significantly interfere with your everyday life, your eye surgeon will recommend cataract surgery to eradicate your visual symptoms and improve your vision.
---
What Happens During Cataract Surgery?
First, your eye surgeon will numb your cornea, the clear dome at the front of your eye, with eye drops. Then, they will make a small opening in the cornea to access the area behind your dilated iris, the colored part of your eye, which is where your natural lens is.
The cataract itself is actually your hardened and cloudy natural lens. The surgeon will break up the cataract using ultrasonic energy into small pieces that can be aspirated out of the eye. This is called phacoemulsification. During this process, our cataract surgeons utilize the efficient Alcon Centurion phacoemulsifcation machine and will use the Zeiss Lumera 700 microscope to allow the best possible view of your eye.
After the cataract is removed, the surgeon will insert an artificial intraocular lens, or IOL, to replace your natural lens while at the same time minimzing your prescription. Once the IOL is properly positioned, the procedure is complete, and the tiny opening in your cornea will heal naturally during recovery.
---
Can You Use a Laser to Perform the Surgery?
Pinnacle Eye Center is one of the only practices in Brevard offering femtosecond laser-assisted cataract surgery (FLACS). Dr. Alexandros Pappas utilizes the LenSx femtosecond laser, which can automate some of the most critical steps of the cataract procedure.
A femtosecond laser can create laser accurate incisions in the cornea, make a perfect opening in the lens capsule, soften the cataract, and in aid in astigmatism correction. All of these features can allow for a gentler procedure, quicker recovery, and ensure perfect positioning of the lens.
The laser is typically used in a two-step process. The brief laser procedure is performed in a separate room, and then sequentially the softened cataract is removed in a more gentle and controlled manner. The laser is often used in conjunction with premium intraocular lenses to achieve the perfect visual outcome for our patients.
---
What IOLs Are Available at Pinnacle Eye Center?
Before having cataract surgery, you will need to choose an IOL (Intraocular Lens) to replace your natural lens where the cataract is. At Pinnacle Eye Center, our cataract surgeons offer various lens options, including standard and premium IOLs.
Standard, or basic IOLs will allow you to see clearly at one range of distance. Most people choose to have clear distance vision and wear glasses for near activities such as reading. Patients with astigmatism may still require glasses even to see perfectly at distance if they opt to stay with a standard IOL.
Premium IOLs can provide you with greater visual freedom from glasses with a customized procedure. We offer a variety of premium lenses that can correct distance vision (driving, watching TV, outdoor activities), intermediate vision (computer work, tablet use, dashboard), and near vision (reading, viewing your phone). Depending on your visual goals, our surgeons will help you determine the optimal lens option for you.
We offer the full spectrum of premium IOLs, including toric lenses, the PanOptix trifocal IOL, the Vivity extended depth of focus (EDOF) IOL, and the IC-8 small aperture IOL.
Medically necessary cataract surgery includes removal of the cataract, a basic implant, and manual surgery techniques. Out of pocket costs are associated with premium lens implants and customized laser-assisted cataract surgery. Pinnacle Eye Center can recommend low or no interest financing options to let you invest in one of your greatest assets – your eyesight!
---
Where Do You Perform the Surgery?
The surgery is performed in a same-day outpatient surgery center. Most patients receive mild sedation during the procedure to reduce anxiety, though it is not always necessary. The procedure itself is brief, painless, and simple for the patient. The staff at the surgery center is friendly and well versed at making the experience positive for the patient and their family members. Dr. Pappas will see you back in the office for regular post operative exams after surgery.
Are you interested in learning if cataract surgery can help you experience visual freedom? Schedule an appointment at Pinnacle Eye Center in Melbourne, FL, today!
Cataract Self-Test
Request an Appointment